Tell us about your experiences whilst travelling at altitude, it's important to share your stories. If it keeps other travellers informed and therefore, more aware of any potential dangers and risks, then our 'Para-Monte's' main vision will keep moving forward…………
Thank you.
July 2019 –  Josie –  Eiger Trail
Morning all
Well Amazing……our Josie completed the Eiger Trail and send us this video 🙂
Some pictures of Joise on her Eiger Trail challenge..completed in 21 hrs…spectacular pics and achievement…!! 🙂
https://photos.app.goo.gl/D4Fbt3hR7oWTetua6
We can be so so proud of our Para-Monte Ambassador 🙂
Well done Josie from all of us Para-Monte ❤
News just in ……  take a look at Josie's video and sending well wishes to 'our' Josie running the Eiger Trail this Saturday, flying the Para-Monte flag. 

Good Luck Josie @ Para-Monte 
26/27 June 2019 – Big Bang Ardingly 
BIG BANG …it certainly was 🙂
We managed to educate and raise altitude awareness over the two days by testing over 250 children and well over 500 listening audiences from teachers, school kids and other interested people 🙂
Thanks to everyone involved, a huge boost for Para-Monte 🙂
Proud @ paramonte.org ❤
June 2019 –  Thanks Ash- Altitude Awareness.
Was great to present our #Heat & #Altitude research, as part of the @EastAngliaSLP @EducateSouthend day @AngliaRuskin #Chelmsford. Raising awareness with local schools for heat strategies at sports days & altitude info for ski/walking trips


. @para_monte @UoB_EEL @SESRG_ARU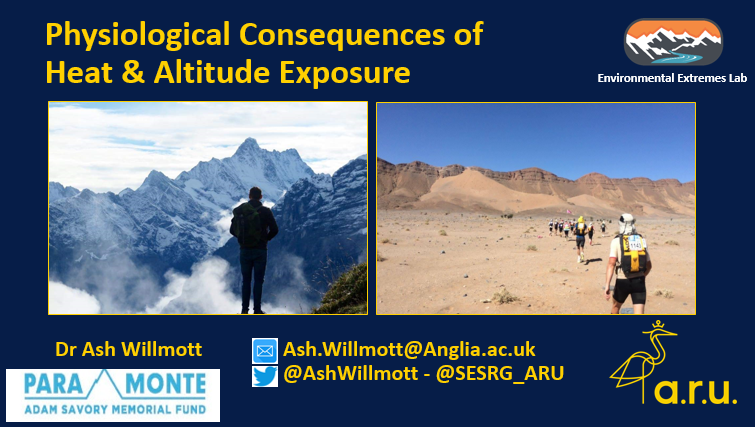 16 June 2019 – James – London to Brighton Bike Ride 
Today was a remarkable day for James, cycling the London to Brighton route for Para-Monte on his birthday! 🙂
James as well as all who supported him through donating £260 , helped us raise that all important altitude awareness!
Huge thanks James…. 🙂   always appreciating continual support @ Para-Monte
'Living the Years' with/for Adam ❤
June 2019 –  Matt Shore's Train Strong Hike
Thanking Matt Shore and his Train Strong Hikers for their £130 donation…

Your continual support and spreading the word about Altitude Sickness is very much appreciated…
Also wishing our P-M ambassador…yes…You Matt…. all the best on his training trip in the Alps next week too…..Go Matt Go @ Para-Monte 
May 2019 –  South Down Walk  
Huge thanks again to all our South Downs walkers, you not only raised altitude awareness but £270 towards equipment for our new project @ ARU/EEL…further details to come soon.
All of you who donated, we too owe a massive Thank You 

' Living the Years' for/with Adam 
 xxxx 
April 2019 –  'Our Josie' MdS race  week – daily update  
Well here's hoping you had a good Sunday… like 'Our Josie', her first MdS race day 🙂
The results are in: out of 162 women racing…
— Josephine ADAMS – 03:36:51 GBR (Royaume-Uni) = 9th position 🙂
Wow great first day Josie… Keep going 🙂 Thanks @ Para- Monte ❤
Here she is in her new Para-Monte kit starting the race this morning.
Follow Josie Adams = bib number 377
http://www.marathondessables.com/en/marathon-des-sables
April 2019
Thanks to Dr Ash Willmott, moving from Eastbourne UoB EEL to Anglia Ruskin University Cambridge, for always supporting and spreading the altitude awareness for Para-Monte 🙂
Altitude session with the level 6 sport & exercise science students @ARU_Sport @SESRG_ARU this morning 🏔️🧗‍♂️🌍. Great opportunity to link in our current altitude awareness work & research study in partnership with @para_monte at @UoB_EEL
Grateful @ Para-Monte.
April 2019
Do you remember 'Our Josie Adams'.
Our P-M ambassador at her MDs training @ UoB – EEL Lab today is off to do her second Marathon des Sables race next week as well as preparing for the Eiger Trail ultra in July, always raising more altitude awareness for us…:) Wishing you every success @ Para-Monte. Keep spreading the word , 'Living the Years' with/for Adam. Go Josie Go…<3
Jan 2019        Amazing achievement!! 🙂
FDM raised over £3000 , taking part in the steps challenge with 85,692,936 steps, towards further research @ UoB EEL as well as education programmes to raise Altitude Awareness.
Chris and Rod, meet regularly, being loyal friends, since they met 40 years ago at UoB (then Brighton Polytechnic) this was an extra special get together for them and our charity.      Grateful @ Para-Monte……..Much Love The Savorys ❤ xxxx ❤
https://www.fdmgroup.com/fdm-joins-forces-with-charity-par…/
Jan 2019
Para-Monte would like to thank Matt Shore for continually supporting us…through his train strong social hikes raising Altitude Awareness and funds towards research and education. Thanks to all you hikers for the £212.50 raised.
Lets keep hiking in 2019 … @ Para-Monte 🙂 xx
Dec 2018
Para-Monte would like to thank So Legal for being their 2018 chosen charity.
You not only managed to raise that all important altitude awareness, but £404 to further our research and education programmes in co-operation with Brighton University EEL
Grateful @ Para-Monte 🙂

Dec 2018
Proud Savorys …… ❤
Emma's msg
This is a very proud moment for our family. What a fantastic video by Neil/ EEL at Brighton University. I personally am so grateful for all your work and to all of those, who have supported us in the many different ways you have over the past 6 years. Thank you from the bottom of my heart. ❤️
EEL blog….
http://blogs.brighton.ac.uk/extremeslab/2018/12/07/environmental-extremes-lab-represent-para-monte-altitude-awareness-charity-at-world-extreme-medicine-conference/
Thanks to you all for your continued  loyal support!
We couldn't do this without you…. ❤
14 May 2018
Fabulous news from Tristan da Cunha…. 🙂
We are overwhelmed and proud to let you know that the event held on the remotest island was an amazing success..:)
Thanks must go to Kelly for organising this as well as all her friends who baked, made things and all the peeps living on the island for taking part, raising Altitude Awareness and an incredible £390.40 for Adam's charity 🙂
Please read their story http://www.tristandc.com/news-2018-05-10-paramontefundraiser.php
Huge thanks, gratitude and Much Love ❤ The Savorys ❤
1 May 2018
Evening All
Tristan da Cunha the most remote place in the world.
Para-Monte is going to Tristan, as Kelly (Adam's friend) and the folks on the island (269) are raising Altitude Awareness this weekend with a Fish & Chips supper 🙂
Thanks to Kelly and Tristan's folks……lets give them a cheer and a smile 🙂 for their fun day …..Adam would be so so proud ! 🙂
LOL The Savorys ❤ xxxx ❤
ps don't you just love Tristan's mascot penguin holding our logo 🙂 🙂
19 April 2018
We are excited to show the fantastic feedback blog, produced by Dr Neil Maxwell (EEL)on Team Suchet's Machu Picchu trek. We are proud of them that they listened to our advice to 'Prepare and Be Aware' as this can 'Safe your Life'. Thanks for helping to raise Altitude Awareness for Para-Monte. The Savorys ❤ xxxx ❤
Please read this important blog:
http://blogs.brighton.ac.uk/extremeslab/2018/04/18/hercule-poirot-and-suchet-family-supported-before-inca-trail-trek-to-machu-picchu/comment-page-1/#comment-2
10 April 2018
Afternoon All
Team Suchet……remember….. 🙂
They made it……!!

John Suchet's…Fabulous pics & tweet…….
Aching limbs, swollen feet, hurting head (and that's just me).
Intrepid trekkers made it to Machu Picchu.
We congratulate them all on achieving their goal…. 🙂
Well done Team Suchet and thanks for supporting Para-Monte.
Much Love The Savorys ❤ xxxx ❤
7 April 2018  Looks at this………!!
The Oner Ultra Run
7-Apr-2018, Charmouth, Dorset, UK 
129KM / 80Miles / 24 hrs
Josie Adams, always raising Altitude Awareness, running this One-day coastal path…… 

This is the mother of all ultra trail runs!
A triple marathon over the world famous Jurassic coastline with over ten thousand foot of ascent and a strict 24 hour time limit.
This is a seriously tough event with only 50% of runners normally making it to the finish line and only 2 females last year.
MdS – Morocco / Costa Rica… now England !
Wishing you every success today Josie @ Para-Monte
We'll keep you posted…. 
 Much Love from us all 
 xxxx 
27 March 2018
Big Bang Para-Monte / EEL
Big Bang it was indeed…! 🙂
Everyone had a brilliant day at UoB today at the Para-Monte/EEL activity stand. Local school kids took part in the training mask-step exercise simulating going to Altitude.
Thank you all for helping to raise Altitude Illnesses Awareness. 🙂
See you at the Big Bang for the South East (27/28 June)

17 March 2018
The Suchet Family!
Yesterday we were fortunate enough to offer the Suchets a visit to UoB EEL Lab for an Altitude Educational Day ahead of their trek to Machu Picchu.
David Suchet(Poirot) John Suchet(former ITV news reader/now Classic FM presenter) Peter Suchet (journalist)and their respective wives had a fabulous enjoyable day being tested and informed regarding Altitude Illnesses.
They were grateful for this valuable visit and educational day.
John Suchet- tweeted
Can't wait for Magical & Mystical! Thank you to brilliant charity @para_monte for giving us day's preparation in collaboration with @UoB_EEL. Planning extreme trip? Check out http://paramonte.org . Helping others through tragedy.
Thank you Suchets, enjoy your adventure and have a safe journey to Altitude.
Much Love The Savorys ❤ xxxx ❤
12 March 2018
Evening folks
We're proud to welcome a new fundraiser for our charity….. 🙂
We're hoping you will all agree that supporting and encouraging Chris through this slim, will be a fab thing……….
We'll keep you posted how Chris progresses and of course wishing him Good Luck ❤ much Love The Savorys  ❤ xxxx ❤
Savory Slim for Para-Monte on MyDonate
Chris Savory is going to slim down and loose weight !
Taking the next 5 months to achieve being slimmer than I am at this moment 126 kg (278 pounds) hoping to lose around 12 kg ( 28 pounds)…..is my goal 🙂
Any slimming donations will be dedicated to further research at UoB as well as raising awareness for the worthy cause of the relatively unknown Altitude Illnesses.
Thanking you very much and appreciate your support and encouragement.
Chris
mydonate.bt.com/events/chrissavory/458721
Posted on February 23, 2018 by Neil Maxwell UoB  
Congratulations Josie Adams – 5th in Coastal Challenge!
Josie Adams, 26, an ultra-endurance athlete sponsored by the charity Para-Monte, approached Dr Neil Maxwell and the EEL team at the University of Brighton to aid her with preparations for the Coastal Challenge in February 2018 – a 236 km race through part jungle, over trails and up into alpine terrain. Of course, the EEL team did not hesitate in declaring their support for Josie. Rebecca Relf took the lead, organising the week leading up to Josie's departure for Costa Rica, where temperatures during the challenge were expected to be around 30°C whilst also very humid (~60-80% relative humidity). Rebecca and three other PhD students (Jason Newbery, Greg Eichhorn and Rosie Lewis) supported Josie in completing 9 heat acclimation sessions in 6 days. Although, taking a backseat on this occasion, support in the form of spreadsheet design and heads popping into the labs by Ash Willmott and Neil was greatly appreciated.
Heat acclimation sessions coincided with Josie's training taper, therefore sessions were not dictated by any usual heat acclimation protocol. With any form of heat acclimation design, the desired core temperature to achieve and maintain for optimal adaptation is recognised as 38.5°C. We therefore, aimed for Josie to reach this core temperature within the first 20-30 minutes of being in the chamber, and to maintain it for around an hour during each session. On a few of the days, Josie had two heat exposures in a day (benefitting from the our research, led by Ash, around twice-a-day heat acclimation, which left her feeling a bit "heady" and "tired". However, she knew her body well and dictated the sessions according to how hard she wanted to push herself running, walking or simply sitting in the chamber to gain any form of advantage in her upcoming competition in the heat.
A lactate threshold test was conducted on Josie's first and ninth visit in order to compare a few main variables; heart rate, core temperature, sweat rate etc. to determine if any adaptation had occurred. Table 1 below briefly outlines the positive changes we discovered before Josie set off to compete.
Finally, we asked Josie her thoughts, after the sessions in the labs were complete before she departed for Costa Rica;
"For me the psychological effects possibly outweigh the physical effects – with the past years' experience I know that I can push through/cope with heat issues if I need to – the thought of heat doesn't phase me too much. However, being mentally calm, prepared and race-ready with my mind in the best possible place, is of real importance to me (and ultra-running as a sport I think).
I think this great 'head space' is the result of a combination of the following:
– sole focus on race/training
– some 'me time'!! (Detached from incredibly busy lifestyle)
– handing over the reigns to the EEL team for a week makes a nice change from being the only one in control of my training all the time. Very relaxing!
– to top all the above, the confidence of knowing I have acclimated well and am physically ready to deal with the heat is the cherry on the icing."
To our delight, Josie completed the Coastal Challenge (total of 88 started (33 females) with 52 finishing (24 females), finishing an impressive 5th in the females and 19th overall! As a team, EEL are delighted to have helped Josie out in the lead up to such a great achievement – congratulations!
Above are the official race results, which just highlights Josie's placement in such a prestigious event!
18 February  2018
Afternoon All
Congratulations to Josie on finishing the Coastal Trail Costa Rica …flying the Para-Monte flag… 🙂
You've been amazing…..thanks for being our ambassador !
Much Love @ Para-Monte ❤ xxxx ❤
18 February  2018
Morning All
Latest news flash…..
Josie runs The Coastal Challenge Costa Rica!
Our Para-Monte ambassadors do us proud ……..going from cold to heat, through deserts and up mountains to help us spread the word and raise Altitude Awareness 🙂
Josie has been training, this week with our partners @ EEL, UoB team(blogs.brighton.ac.uk/extremeslab, for her Coastal Trail in Costa Rica.
After completing her challenge, Josie, will again visit hostels in San Jose for us, delivering leaflets, coasters and talk to travellers to get the awareness out there 🙂
We @ Para-Monte can't thank her enough and wish her well on this amazing Coastal Challenge (thecoastalchallengecostarica.com)
Go Josie Go…! much Love from your Para-Monte 'family' ❤
January 2018
Grateful to Matt …  The Savorys @ Para-Monte 
So i didn't quite summit but @paramonte will understand the message my challenge carries.
High altitude mountaineering pushes the boundaries of human potential.
I am enormously thankful for their support in raising awareness about the dangers of high altitude…www.paramonte.org….Love your vibe guys xx 💚
18 January 2018
Morning All…..Important news.!!
'Living the Years' for /with Adam and grateful for Para-Monte as his loss never ever invain.!! ❤
Please send Matt and the team our warm hearts ❤
Amazing adventure, however they listened to their bodies! so grateful they are all safe and well and coming down the mountain today 🙂 Much Love guys the Savorys xxxx
—————————————————————————
Me and my team mate, Banjo bannon who I ultimately am massively grateful to. This is a pic of us when things were going tits up for me at 150m from the summit at 6810m altitude.
Summit day, 5am start, -30-40degree C temperatures, thick snow (worst in 15 yrs) everywhere.
After 3 hours ascending 2 of the team turned back due to risk of frostbite on toes and fingers.
Myself and Banjo pressed on after trying to warm our toes up at camp indepencia.
After 10 hours of ascending i was 150 vertical m from summit. But I was in a bad way. Hallucinating, breathing 5 breaths to every step up, hot then cold, a voice inside me said "turn back now Matt as you have to get back again".
I looked up to the summit so close and knew I had nothing left. My vision shifted as the snowy mountain turned green. –
Fearing cerebral Odema due to my side effects I started to descend.
I met Banjo 30m below me and he pushed a tablet of dex and diamox into my mouth and told me we need get down now.
At first I said let's make a go of it – until banjo said "you're done mate!"
I spent the next 2 hours with hallucinations, freezing fingers, desperately trying not to fall down the snowy mountain ledge.
Tunnel vision, following Banjo "mate I really need help fast" as I stumbled down the mountain to camp 3, 2hrs later in full on survival mode.
Banjo went ahead and alerted the team.
@silverbackblair and George bought out a hot drink as I fell to my knees.
The remaining 5 hours consisted of being dragged down the mountain by a porter as we were too high up to get a helicopter.
With the drugs, care and drop in altitude to base camp (5hrs descending on top of 10 ascending) I began to feel better.
Long and short of it, I'm still here, have too much to live for and am massively grateful to my team who had my back. Thank you boys, I love you. Xxx
11 January 2018 – Adam's Birthday ❤
Dr Neil S. Maxwell @ University of Brighton  🙂
I wanted to share with you our Environmental Extremes Lab Blog blogs.brighton.ac.uk/extremeslab that was launched yesterday at a workshop I ran linked to some commissioned work by the English Institute of Sport (EIS) to produce a resource pack that will contribute to the heat strategy ahead of the Tokyo 2020 Olympic and Paralympic Games. We are very excited in the platform we hope this blog will offer us to reach out to collaborators.
Wishing the EEL all the best in the future @ Para-Monte Trustees
11 January 2018 – Adam's Birthday
Matt reporting on his expedition


Ascent to high camp 1 for a good and gear drop off15kg packs, 3 hrs up and lots of heavy breathing on steep terrain.
A tough day but the team is feeling STRONG!
Tmrw we move up to camp 1 with tents etc before continuing our ascent.
Big shout out to the charities I'm representing on this challenge:-
The JPK Project and Para-Monte!
Big love from high up! 💚
January 2018
Para-Monte is starting 2018 off with exciting news of the Agoncagua climb by Matt Shore……  🙂     https://youtu.be/lP8UXXlOuk0
Matt is a Personal Trainer and with three of his friends, will attempt to climb this highest mountain in the world, outside the Himalayas, starting his expedition on 5 Jan 18.
Matt, like others, has also been instrumental in our Altitude Study @ UoB, able to take part in the 8 hrs chamber test to find out his susceptibility to altitude, very important for his expedition.
However, the most exciting and special news for us is that upon reaching the top, he'll place our Para-Monte flag on the summit !! 🙂 🙂
Massive thanks Matt, for helping us raise Altitude Awareness and of course we all wish Matt and friends every success !!
Sponsoring Matt on this trip, we will follow his progress via daily videos or follow Matt on https://www.trainstrongpt.co.uk/aconcagua-adventure/
'Living the Years' for/with Adam ❤ The Savorys ❤ xxxx ❤
Dec 17
Today saw the last day of the Marathon de Sables… 🙂
We like to congratulate Josie on completing the MdS Peru 2017
Josie will now start her follow on journey to Cusco and beyond as Para-Monte's ambassador…..
Wishing her well visiting hostels, talking to and handing out our coasters to travelers from around the globe
Grateful and proud of Josie ❤ sending her much Love ❤ xxxx ❤
30 Nov 17
ALTITUDE TESTING by Matt Shore-climbing Aconcagua in Jan 18
I am blogging today at an altitude of 4500m and temperature of 17 degrees C while in Eastbourne! I am engaging in Altitude Testing!
You would be correct in thinking that there is nowhere in Eastbourne that nears the height of Mont Blanc as I am sat in the University of Brighton Altitude Chamber.
I am a participant in a study being carried out at the University of Brighton and funded by http://www.paramonte.org.
Paramonte is a local charity that is passionate about raising awareness about Altitude Sickness, High Altitude Pulmonary Oedema (HAPE) and High Altitude Cerebral Oedema (HACE).
The study looks at susceptibility to Altitude Sickness using a batch of tests including a 6 minute walking test performed both in normal conditions and at altitude in the chamber.
So far I have completed 2 x 90 minute sessions which included the walking tests at both conditions.
Today I am in for the 3rd and final part of my testing which simply involves being in the chamber for 8 hours at a simulated altitude of 4500m. FB IMG 1512073228918
Every half hour I am recording pulse rate, Oxygen Saturation using an Oximeter (simple finger based device that measures pulse and Oxygen Saturation), body temperature and relative perceived exertion.
I am also completing the Lake Louise Questionnaire (LLQ) which is a very useful tool for assessing the degree of Altitude Sickness. It can also help identify risk of the more serious HAPE and HACE which are both conditions that can lead to death if ignored.
Every other hour I am also taking blood pressure and so the old sport science student within me is being well and truly woken!
Awareness is a Powerful Thing.
With the expedition to Aconcagua drawing ever closer and having never really been to truly high altitude before I wanted to give myself the best possible chance of getting to the summit and of course returning safely and in good health.
For that reason I contacted the University in the off chance any studies were taking place or whether I could pay to do a session in the altitude chamber to give myself an idea of how I am likely to respond when out on the mountain.
As luck would have it the university was running a study and here I am. Perfect timing! From my own perspective the process is invaluable.
If I end up being able to handle altitude well, my confidence on the mountain will be high. If it turns out I don't handle altitude so well (and fitness has very little bearing on how we tolerate high altitude hence the need for studies like this one) It means I know I will need to take it easy, move slowly and take my time acclimatising.
Either way, it's a win win situation and one that leaves me feeling informed, more aware of the symptoms of Altitude Illness, how to recognise them and what to do if symptoms persist or worsen.
In myself I am feeling good. The change in oxygen content in the air is noticeable. I am breathing a little more than normal and I am aware of the faintest of feelings of fuzziness in brain, but no dizziness.
My pulse is elevated above resting (48-50) to around 56 to 65 and my oxygen saturation which was at 98% is coming out at around 80-88% so far. Temperature is normal and blood pressure has gone up a little.
All in all this is a very positive and useful experience.
Paramonte – Beyond the Mountain.20171130 202202
The Lake Louise Questionnaire is a very useful tool that can be used to assess yourself on the mountain and can either be printed off from http://www.paramonte.org and laminated and kept with you or downloaded as an app from their website.
I will be taking the questionnaire myself to Argentina and have just purchased an Oximeter to measure my Oxygen Saturation while out on the mountains – both of which will be invaluable in making my time at high altitude safer.
Paramonte are a charity established by Emma, Chris and Jeannet Savory who sadly lost their son and brother, Adam, to Altitude Sickness when traveling in Peru.
Their great work continues to increase awareness about Altitude Illnesses and the risks and dangers of high altitude.
The Results
Well it seemed my body responded well to the 8 hours at Altitude. No real side effects apart from occasional bouts of shortness of breath which would last for 10 seconds or so. No headaches, nausea or fatigue and really, apart from feeling a tiny bit "fuzzy" the lack of oxygen in the air didnt really affect me up to this height.
So I am feeling positive in that it seems I can handle altitude fairly well, at least up to 4500m. A huge boost mentally and reducing the uncertainty of how well I will respond in the first week or so of acclimatisation.
On top of the mental boost I am now also a great deal more aware of the symptoms of High Altitude Illness and knowing the facts means I can not only help myself better but also others whom I come into contact with.
The expedition draws nearer and the excitement is building!
November 2017
Josie Adams Marathon de Sables Peru
This week we will be keeping a close eye on Josie racing in Peru,you can too @
https://mds.waa-tracking.com/waatracking/fr-FR/mds/PERU2017
Good Luck Josie 🙂
Exciting News….
Remember ……Josie Adams….
Marathon de Sables ultra runner is on her 3 week countdown to the MdS Ica desert race (28 Nov- 4 Dec) in Peru.
After completing her 7 day marathon challenge, Josie, as our ambassador, will use her time to test our App for our Brighton Uni research project as well as visit Cusco hostels to help raise Altitude Illnesses Awareness for Para-Monte.
Proud, to thank YOU , for your loyalty and amazing continual fundraising efforts and support, which have contributed to this amazing Altitude Awareness raising opportunity….:)
Wishing Josie well in her race and we'll keep you posted!
Much Love The Savorys ❤ xxxx ❤
Ps …nearly forgot Josie is going to be at the quiz on Friday 17 Nov 18 and she will be filmed that night as well as throughout her race!
Para-Monte App
Evening All.
Five years ago today, we vowed Adam's passing wouldn't be in vain.
Today we're launching the Para-Monte App 🙂
We hope this App will help raise Altitude Illness Awareness as well as save lives.
Special thanks goes to Mat Power for working so hard to create our own Para-Monte App.
Please download/share, especially if you know of anybody who is travelling at altitude, which will mean the world to us.
'Living the Years' for/with Adam ❤ xxxx ❤
Para-Monte is very pleased to introduce Josie Adams.
The charity will be sponsoring Josie in her developing running career, participating in extreme sporting events, such as Marathon des Sables and The Brecon Beacon Midnight Mountain Marathon, where she achieved a 3rd place finish.
As a charity ambassador, Josie was also able to give talks and raise awareness, in local Welsh schools and hostels and will continue these talks in future as her extreme sport career takes her around the globe.
We would like to thank her for coming on board and wish her every success in her future running career and ambassadorship for Para-Monte.
Josie's own intro:
"Hello. I am Josie Adams; ultra-runner and outdoor adventurer from the South West of England. From scouting out running trails to travelling with my mobile coffee business, I am always hunting for the next new place to discover. Entering races in various climates and conditions around the globe gives me a great opportunity to both tend my 'itchy feet' and push my running career forward. I'm absolutely delighted to now be carrying the badge of Para-Monte with me as I race, where the parameters of extreme sports, travel and health so often overlap."
28 Jan 17 – Brighton University £10.000 donation for Altitude Research & App News
An important day for Para-Monte.
Thanks to all who came,shared and supported our charity raising Altitude Awareness.
It means the world to us….Much Love The Savorys.
This was covered by:
BBC Radio Sussex…..
BBC South East Today….
.http://www.bbc.co.uk/…/south-east-today-weekend-news-290120… @ 1.45 sec in….
EASTBOURNEBUZZ.CO.UK…….|BY SHARON WILLIAMS……
Eastbourne Charity Presents £10k For Altitude Research

Brighton University mail to all their members of staff – By Ash Willmott
Hi All,
Last Saturday 28th January 2017 the University of Brighton's Sport & Exercise Science department held a charity event for Para-Monte to present the University with a cheque of £10,000. The donation will be used over the forthcoming months to raise the profile of the charity, raise awareness and educate schools, colleges and the wider community about the effects of altitude illness, and to fund research into assessing individual response to acute and chronic altitude exposure.
Over 50 people from the surrounding area attended the event, in addition to local BBC South East, Herald newspaper, and the Eastbourne Buzz who have all reported on the event through radio, television and online media. There was a presentation provided by Dr Neil Maxwell on altitude exposure and I presented on the plan of action for the donation. This was followed by lab demonstrations with the new equipment donated to the University followed by speeches and the cheque presentation. Hospitality was put on by the Starting Gate which was funded by the ECHO grant scheme.
This has been a huge team effort to organise and plan with many thanks going to the finance team, marketing team, reprographics, ECHO team, PhD/TI/MSc/BSc students, the Starting Gate, SESCU and academic members of staff. Para-Monte are keen for a long lasting relationship with the university (you can read their feedback and see the impact already provided below), where together we can help prevent those visiting altitude from suffering the sometimes fatal consequences of altitude illnesses. They are keen in time to invest again and to a far greater sum, so there is real opportunity here, not least for the impact of our research to be evidenced and importantly for some real legacy to come from Adam's death.
If you would like to have a listen, read about the event/charity, or watch a short video please find all the links to the various media outputs below.
Para-Monte are releasing an Altitude Awareness App in the next few months, which will be trialed here in the labs first. I hope you enjoy reading/watching this story which will have a true impact on the University, Charity and surrounding community,
Please pass onto your friends and other colleagues, all the best,
Ash
BBC South East News Radio and TV clip which was aired Sunday evening at 6pm and 10:30pm (at minute 1:40) will be available for us online soon.
Eastbourne Buzz video and a news blog on their website;
http://www.eastbournebuzz.co.uk/eastbourne-news.php?eastbourne-news-reports=2831&&Eastbourne-Charity-Presents-10k-For-Altitude-Research
University of Brighton news blog;
http://blogs.brighton.ac.uk/sasm/2017/01/30/raising-the-stakes-on-altitude-sickness/
Para-Monte (webpage https://paramonte.org/) was set up in memory of Adam Savory. Adam was a fit and healthy 25-year old who on a trip to Peru lost his life to altitude sickness which developed following a 15-hour bus trip to the city of Cusco (you can read his story and find further information on the charity here).
Thank you from Para-Monte =
"Dear Ash, Neil, Mark & other colleagues
The Para-Monte Trustees would like to express sincere thanks and appreciation for all your painstaking preparation, hard work and consideration, covering our joint event on Saturday; as well as passing on a thank you to all the students and bar persons, both in providing guidance and hospitality.
Since Saturday, we have literally had thousands of hits and views on both face book and the website. Feedback has been tremendous as well as humbling and we feel much of that praise is resultant from your efforts on our behalf.
Our future link means further progress in research and hopefully even greater success in raising Altitude Illnesses Awareness.
Thanks again.
Chris, Jeannet, Emma
on behalf of the Board of Trustees
Ash Willmott, BSc, part time Ph.D.
Sport and Exercise Science Consultancy Unit Officer
17th October 2015 – Updated Blog from Sophie
Please take a look at the latest blog from Sophie Rashad about her journey back from Cusco to London, and her visit to our family home. It was an honour to meet her and her mum and we are so grateful to have her as an advocate for Paramonte.
https://adventuresofsoph.wordpress.com/
http://sophierashad.com/2015/09/15/para-monte-beyond-the-mountains/
We are delighted, overwhelmed but most of all relieved that our website has contributed to the decision made by Sophie's family to get her safely down to sea level. One of our main aims as a charity is for Adam's story to help other travellers acclimatise safely at altitude. Please read this e-mail, we received on 22 June 2015 from Sophie's mum Sarah. Thank you.
I am compelled to contact you to offer thanks for your wonderful website.On Saturday 6 June 2015 our 18 year old daughter, Sophie, flew from London to Cusco with Real Gap.  She was planning to volunteer at a local school and trek Machu Picchu, Lake Titicaca and Puno over the following month.
On arrival in Cusco she was met by her lovely host family at the airport and they drove for 20 minutes to the house.  Within 90 minutes after landing in Cusco Sophie exhibited severe altitude sickness symptoms.   She was violently sick six times within 20 minutes and had an acute throbbing headache.  Shaking and tearful the host mother panicked and rushed Sophie to a nearby clinic where she was put on oxygen for four hours .  She started to improve and agreed to return to the house and was told she will feel better in a day or so.   She phoned me the following day crying saying that she felt so ill.  She couldn't walk in a straight line nor put on her shoes.  She had no appetite and on speaking to her I recognised that her conversation was rambling and illogical.  Her breathing was obviously laboured and her head was still pounding.
My elder daughter Hannah, and myself frantically searched the internet for advice and it was apparent that she needed to be moved out of Cusco immediately.  However, the travel gap company and emergency insurance people were reluctant to take this seriously. We were constantly told she will get better tomorrow and that everyone adjusts in a day or so.   Everyone seemed to be taking this very lightly but after having spoken to Sophie it was obvious to us, her family, that she was becoming incapable of making rational decisions due to the severity of the altitude sickness.   We pushed and pushed from this end for her to be readmitted to hospital. When she was finally admitted the doctor stated that she need oxygen for 24 hours.  It was then we took the decision for my husband to fly that day to Cusco himself to get Sophie out.  It was obvious that she was not acclimatising at all and it was dangerous for her to stay any longer.
When he arrived the following day at the airport, Sophie, even having been on oxygen for 24 hours prior, whilst waiting for their flight out, was deteriorating fast.  However, they managed to get to Lima that night and Sophie immediately felt she could breathe – she realised how irrational and illogical her behaviour was Cusco and how fogged her thinking was.
Your website was hugely influential in our taking the decision to rescue  Sophie.  Looking back now, the Lake Louise Test, of which we were unaware, Sophie scored 15 within 90 minutes of landing in Cusco and even at the airport waiting to depart to Lima and after being on oxygen for 24 hours she was still scoring 7.

Your website is straight to the point and in an emergency it was very easy to gather information.  I really feel I have to thank you for setting up this site to inform people of the potential danger of altitude sickness and how rapidly it can affect suffers.  I think that most people are aware of altitude sickness  but are unaware it can be fatal within hours.
Sophie has written a blog about her experience and has put a link to your website to help raise awareness.  I will also be contacting the travel company requesting that they highlight this potential condition to future travellers.  I feel that Adam's death was not in vain – his story and all the subsequent information you list on the site was an invaluable factor in our taking the important decision to get Sophie out of Cusco.  Especially as I did have moments of thinking that 'tomorrow' she would be better and that perhaps once home, Sophie would have huge regrets about leaving.  On reflection she said she knew instinctively she needed to leave Cusco but no one was taking her seriously and she was constantly being told that she would get better 'tomorrow' but as she was so weak she felt she had no one in Peru to help her.  Thank again for your wonderful website – without this information I am sure Sophie's story would be very different.
Many thanks and all good wishes.
Para-Monte now has a Patron.
We are very honoured and proud to announce and share the fantastic news that we now have Sir Ranulph Fiennes, the world famous explorer, supporting our charity in our quest to raise Altitude Illnesses Awareness worldwide.
On our behalf we like to thank Sir Ranulph Fiennes for his amazing gesture and all of you for your continual support.
The Savorys xxxx

BBC South East Today appearance on TV – Sat 14 June 14
We'd like to thank everyone for their overwhelming reactions to our BBC South East Today tv appearance and your loyal support.
All 'Living the Years' with/for our Adam.
Much Love, The Savorys xxxx
Kilimanjaro challenge
Sarah's monumental Kilimanjaro challenge raised a single handed £2295 for our charity.
Words are not enough to thank you, Sarah!
Para-Monte gained Charity Status on 11 January 2014
What a 'Ridiculous' amazing birthday gift.
Thank you!
Quiz win
Third place for the Para-Monte David Lloyd Quiz team this month…..Well done !!
Christmas gift
Thank you Vicky and Speirsy and some staff at the DGH Eastbourne for their lovely Christmas gift to Para-Monte by donating their Christmas card money……..
Radio Listeners comment:
Firstly, my condolences to the family and praise for setting up this page. I have just listened to Radio One and the raising awareness of this horrid illness. I suffered altitude sickness in Tibet and although my symptoms were similar to those mentioned during the programme, my initial symptom was the feeling I was walking on sponges. I kept saying to my husband how amazingly soft the carpet was. It felt as though the carpet was about 4″ deep. All logical thought process had gone and those around me watched as within a very short period of time, about an hour, I went from 'normal' to totally illogical. Only then did the dreadful headache, nausea, dizzyness etc kick in. I would be grateful if on your flyer, you could mention that the onset of this illness can manifest in unexpected ways and that those around the individual must be aware that altered behaviour can be one of the first signs.Thanks.